You are here
Laminated Acrylic Clapper Board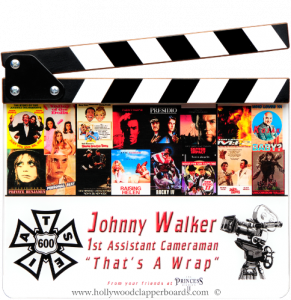 Having perfected our technique over the last 15 years, our laminated acrylic line of clapperboards will surely fulfill all of your production needs. Our laminated boards are prepared using a premium vinyl base with fade resistant inks adhered to clear acrylic and provide industry leading durability when upgraded with our optional ultra tough Lexan™ backing. They are available in 6", 11" and 13" sizes, in opaque white or translucent silver.
For customization combined with durability our laminated line offers our customers the greatest variety of options. Essentially, any graphic can be integrated into our laminated boards from basic text to the most detailed image. Simply provide the base artwork and our master artisans will help you realize your vision. Available with all laminated walnut clapper tops as well as our popular silkscreened poplar tops.
Fully custom laminated clapperboards may be subject to additional design/engraving fees as determined by our artisans once your order has been placed.