You are here
11" DIY UV Printed Acrylic Clapperboard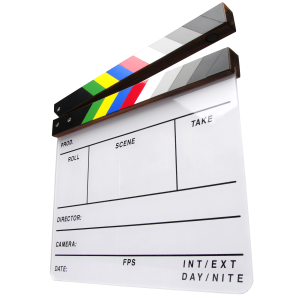 ULTIMATE CUSTOMIZATION, MINUSCULE PRICE.
A true value, this 'blank canvas' clapperboard has the LOWEST MSRP in its category.
Please send finalized artwork, conforming to the dimensions of the print area: 11" wide by 7.5" tall, resolution 600 dpi, in either .jpeg or .png file format.
We will print exactly what you send, however we may resize and crop (tastefully) to ensure your image prints correctly onto your clapperboard. No proof will be provided.
Reverse printed with UV curing inks for incredible color saturation and depth on a durable .125" acrylic base.
Comes with any of our famous clapper tops.
Powder coated external rounded hinges for comfort, adjustable tension.
Volume discounts available on reprints.