You are here
Clapperboard Accessories
ULTIMATE CUSTOMIZATION, MINI PRICE.
SO SIMPLE TO MAKE!
Step #1. Choose your Clapper Top.
Step #2. Download one of our Templates to help you create your own Fully Customized Clapperboard, or create your own design from scratch.
Step #3. Upload your Completed Graphic and let us do the rest!
Please send finalized artwork, conforming to the dimensions of the print area: 11" wide by 7.5" tall, resolution 600 dpi, in .psd, .jpeg or .png file format. Please only include transparent areas you wish to remain clear (no white ink).
We will print exactly what you send, however we may resize and crop (tastefully) to ensure your image prints correctly onto your clapperboard. No proof will be provided.
Reverse printed with UV curing inks for incredible color saturation and depth on a durable .125" acrylic base.
Our Famous Color, Grey Scale and Black & White Laminated FAS Walnut clapper tops come with powder coated internal rounded hinges for comfort, adjustable tension.
Silkscreened poplar tops and 30 degree Laminated FAS Walnut Black & White come with powder coated external rounded hinges for comfort, adjustable tension.
A true value, this 'blank canvas' clapperboard has the LOWEST MSRP in its category.
Volume discounts available on reprints.
.
DO NOT ADD TO CART UNTIL YOU HAVE:
1: LOGGED IN (you can not upload graphics if you aren't)
2: FINISHED UPLOADING YOUR GRAPHIC (shows file name below upload button)
3: SELECTED YOUR CLAPPER TOP
Own THE WORKHORSE.
Choose from 2 of our most classic designs.
A true value, these clapperboards have the LOWEST MSRP in their category.
Printed with UV curing inks on a durable translucent white .125" acrylic base.
Board dimensions (excluding clapper top) are 11" wide by 7.5" tall, with clapper 9.5" tall.
Comes with our popular silkscreened FAS poplar tops.
Powder coated external rounded hinges for comfort, adjustable tension.
Volume discounts available.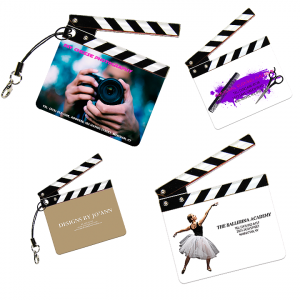 Create your own fully personalized Clapper Board Keychain Accessory.
Take your personal memories in style everywhere you carry your keys!
Also looks great on handbags.
Simply upload your image and we will create your unique miniaturized Clapperboard.
Please provide either .jpeg or .png file format.
We will print exactly what you send, however we may resize and crop (tastefully) to ensure your image prints correctly onto your clip-on.
Printing dimensions (excluding clapper top) are 1.5 inches wide by 1 inch tall (small clip-on) and 2.5 inches wide by 1.7 inch tall (large clip-on),
600 dpi. Reverse printed with UV curing inks for incredible color saturation and depth on a durable .125" acrylic base.
Volume discounts available on reprints. Product includes lobster-claw clip.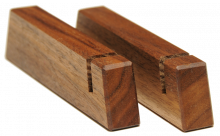 Pair of FAS Walnut Clapperboard Stands.
Denecke Products
Denecke SB-4 Syncbox & Timecode Generator
The Dcode® SB-4 is designed to replace the SB-3 in the Denecke line of Timecode Generators. The SB-4 features a display and menu system, which allows for ease of use and display of timecode and settings. It reads, generates and jam syncs to all standard frame rates including 23.976 for High Definition shoots. The advanced Temperature Compensated Crystal Oscillator (TCXO) has ten times the frequency stability than previous products, eliminating the need to jam more than once per day.
* Generates and Jam Syncs to all common SMPTE Timecode frame rates.
* Cross jams regardless of incoming frame rates.
* Sunlight-readable display with backlight.
* Jam from an external timecode source or set it internally and use as a stand alone generator.
* Selectable TC output levels, eliminating the need for external output reduction pads.
* Runs on 2 AAA batteries or external power connection.
* Simple to set up. Reprogrammable for new features and updates, via both Mac and Windows computers.
* Very high stability crystal ensures low drift.
* Provides indication of drift/inaccuracy between SB-4 and a timecode input signal.
Denecke SB-T TriLevel SyncBox
The Dcode® SB-T is the latest addition to the Denecke line of Time Code Generators. The SB-T reads, generates and jams to all the standard frame rates including 23.976 for High Definition Video. The outputs include Time Code and Video Sync in PAL and NTSC, as well as Trilevel for HD shoots. The Temperature Compensated Crystal Oscillator (TCXO) ensures low drift. High stability and ease of use make it a welcome addition to any Hi Def or Standard Def shoot!