You are here
Blog
Show off your style with a custom phone case
Your phone case should be a symbol of individualism and show off your unique style. Create one of our custom iPhone 6 or 6 plus cases. Upload your favorite picture and leave the rest to us. Want to add that pop of color to your background? Simply upload the background you'd like and we will cut you out of your previous background and place you into your new background. Your style isn't boring so why should your phone case be?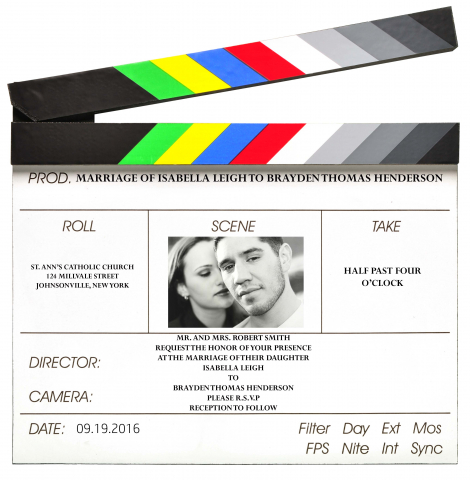 Take you event to the next level!
Presentation is always important when inviting people to events, parties, and gatherings. Our economy boards are the perfect way to promote any event such as proms, weddings, baby showers, family reunions, concert, or even bachelor/bachelorette parties. Our Invitation clappers showcase, 1-3 pictures of your choice, the title of the event, host, date, time, and location. Our Clapper Invitations also can be kept and displayed even after your event is over making your event everlasting. Invite your guest with our Clapper Invitation and showcase timeless memories that last forever.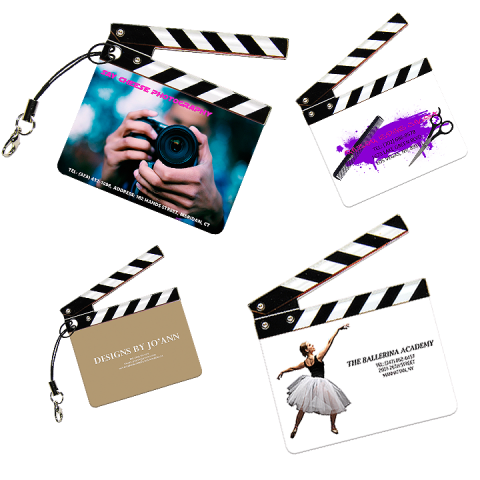 Make your business stand out!
Business cards are still one of the most effective and easiest ways to showcase your business. Knowing this, it is important to make sure your business is represented in the most memorable and convenient ways. Print your company logo and contact information on one of our small or large keychains or magnets. It's a convenient and easy way for your clients or customers to take you everywhere they go and to always have you contact information handy. Don't have a company logo or design to print? No worries our graphic designers will create a beautiful design to catch consumer's attention (Contact customer care for rates and fees associated with logo design). Make the lasting impression you need to help your business grow and showcase who you company is with our ClapperCards.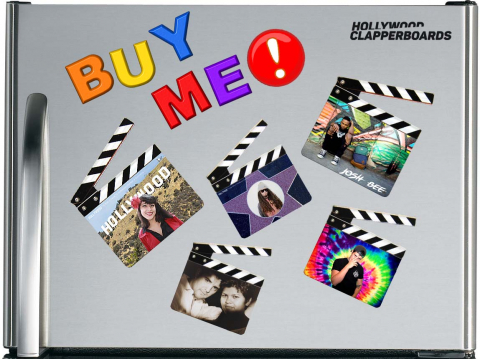 Take your fridge from blah to voilà!
Have you ever walked to the fridge to grab a snack and realized how blah your fridge looks? Snaz up your fridge with our mini clapper magnets. Bring Hollywood into your home! Simply upload your favorite picture and we size it and print it on a small or large magnet. This is a perfect way to showcase your family's personality and memories. Don't like those boring backdrops and want to spunk it up more? We also offer Photoshop services to place your family inside the Hollywood Star, in front of the Hollywood sign, or we also are able to put your family on different colorful and creative backgrounds. Why buy just one? We offer bundles and package deals the more you buy the lower the price. Bring Hollywood into your home and let your family shine!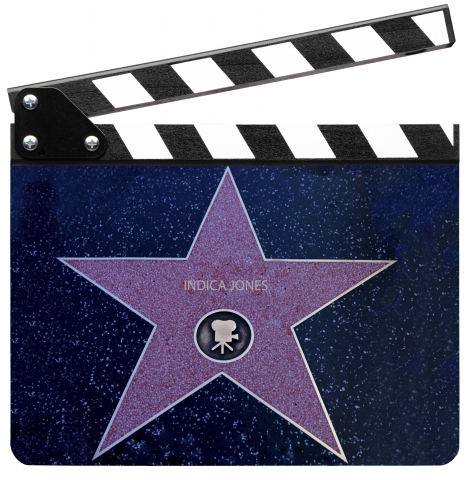 ARE YOU A STAR?
From childhood musician Indica Jones knew he would become a star! As he searched the internet trying to make his dream a reality he came across our website and decided to customize his own Hollywood Star. We designed a simple but classic design of the Hollywood Walk of Fame Star and installed one of our classic silkscreened clapper tops. He has found this to be very useful when recording YouTube cover videos and just to have as a cool keepsake. Good luck Indica!
Pages