You are here
UV Printed Clapper Board with Photoshop Help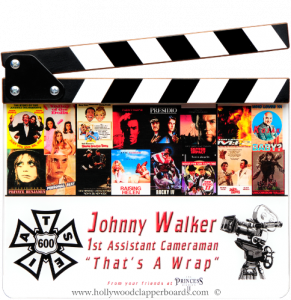 Having perfected our design work since 2002, our UV printed clapperboards will surely fulfill all of your production needs. These UV printed boards are made with your input, fill out all the required fields, submit your graphics and notes and we will provide you with proofs to ensure top quality and help you realize your vision. They are available in 6", 11" and 13" sizes, in opaque white or translucent silver.
Available with all laminated walnut clapper tops as well as our popular silkscreened poplar tops.
Fully custom laminated clapperboards may be subject to additional design/engraving fees as determined by our artisans once your order has been placed.