You are here
Denecke Clapperboard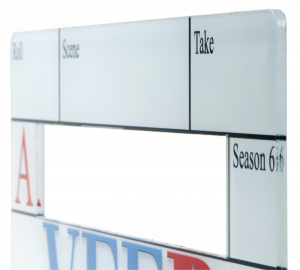 We have partnered with Denecke, Inc. since 1988. My father Petr Litomisky, being good friends with Michael Denecke, offered Michael to help him develop clapper tops for his TS series of Clapperboards which up until that point, being silkscreened and heavily abused on set, "looked like a BB gun target". Michael recognized the functional value of having premium Laminated Walnut clapper tops complementing his masterful timecode boards. Our precision crafted clapper tops offer Denecke users a rugged, viable color bar and grey scale set in every take which the clapperboard is featured. In doing so, paper color charts became a thing of the past, as our product is neither light nor humidity sensitive. We regularly see TS-2's which are still in use after 25 years.
We currently carry the full line of Denecke Clapperboards along with SB-4 and SB-T timecode generators and several accessories. We are also the official outlet for all Denecke clapperboard custom overlays.
We offer the following products at the lowest advertised price (MAP):
Denecke TS-3EL
Denecke TS-3
Denecke TSC
Denecke SB-4
Denecke SB-T
We want to make us your home for Denecke Products and will match any legitimately advertised pricing.
Fully custom laminated overlays may be subject to additional design fees as determined by our artisans once your order has been placed.